Search result: 293 Videos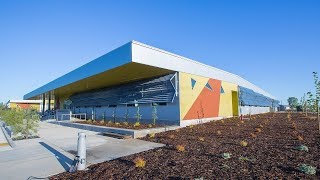 Zero net energy school building: Building Better Recognition 2017 North America
The LafargeHolcim Building Better Recognition in North America went to Gloria Lee and Nathan Swift of SwiftLeeOffice in Pasadena, CA, USA. The two architects designed a new school building prototype for the Los Angeles Unified School District to replace several inadequate temporary structures.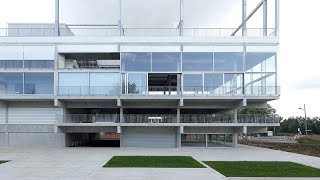 Public Condenser: Building Better Recognition 2017 Europe
Gilles Delalex and his team from Muoto Architecture Studio in Paris won the Building Better Recognition which is awarded for a winning project from a previous competition that has since been built and has stood the test of time as a particularly successful example of sustainable building. The architects excelled in accommodating infrastructure for eight universities under the roof of a highly economical and cost-efficient building. The project won LafargeHolcim Awards Silver in 2014. The building was completed in 2016 and stands as proof that theory can indeed exist in practice.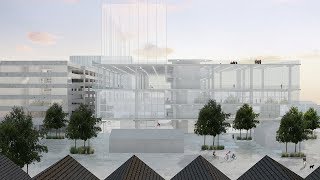 Stacking Sports: Acknowledgement 2017 Europe – Project Overview
Neighborhood recreation center, Bordeaux, France: An array of sporting facilities stacked in one volume, but in open air – uses sport as a social condenser. By François Chas, Nicolas Guerin, Fabrice Long, Paul Maître-Devallon and Ana Miscu, NP2F, Paris, France.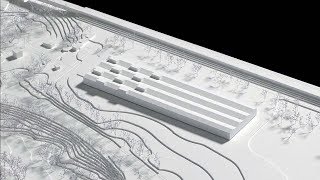 Radical Archaeology: Acknowledgement 2017 Europe – Project Overview
Roman settlement excavation center Augusta Raurica, Augst, Switzerland: An archaeological center for Roman ruins finds a flexible structural system to meet diverse uses and adapt as they change over time.By Ünal Karamuk and Jeannette Kuo, Karamuk Kuo Architekten, Zurich, Switzerland.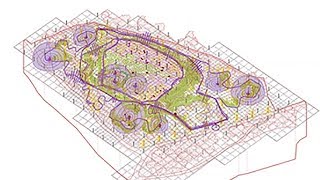 Bio-Palimpsest: Acknowledgement 2017 Europe – Project Overview
LafargeHolcim Awards Acknowledgement prize 2017 Europe An ecological approach to archaeological sites, Pontevedra, Spain: Landscape park of simple means and layered interpretations for a series of archaeological sites. By Joaquín Pérez-Goicoechea, AGi architects, Madrid, Spain.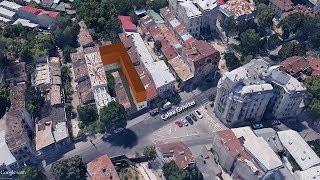 Back-Alley Front Stage: Acknowledgement 2017 Europe – Project Overview
First independent theater, Bucharest, Romania: A community-supported independent theater – the first since 1946 – that transforms a dilapidated plot into a cultural venue. By Chris Simion-Mercurian and Tiberiu Mercurian, Ascociata Culturala Grivita 53; Codrin Tritescu and Petre Frangulea, Arhitecture Office Codrin Tritescu, Bucharest, Romania.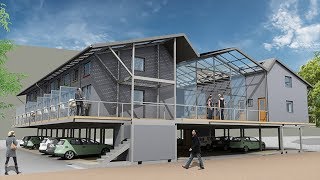 Air Rights: Bronze 2017 Europe – Project Overview
Zero (fossil) Energy Development units on parking lots, London, United Kingdom: Prototype for a low-carbon architecture built above existing public parking spaces – an ingenious solution to solve London's housing shortage. By ZEDpods Ltd, London, United Kingdom.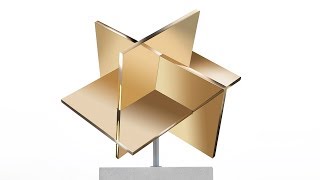 Gold 2017 Europe (ex aequo) – Overview of Projects
The jury decided to award two entries with equal first place. They exemplify a new era in sustainable construction because they are characterized not by stand-alone measures but by holistic concepts that integrate technical, social, economic, and ecological aspects in a balanced way. Both projects are located in a Brussels district for which an urban masterplan has been developed – the Willebroek Canal.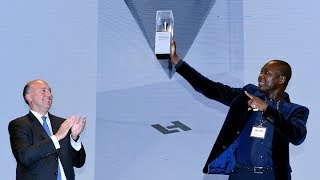 Francis Kéré receives first LafargeHolcim Building Better Recognition
The first LafargeHolcim Building Better Recognition Middle East Africa goes to Kéré Architecture, Berlin, Germany, for "Secondary school with passive ventilation system," a project that earned the Global LafargeHolcim Awards Gold 2012. The jury was impressed by its "beauty and innovative architectural concept and example for new sustainable construction from a materials and technology perspective." Today, the secondary school is reality for hundreds of children and standing the test of time in Gando, Burkina Faso.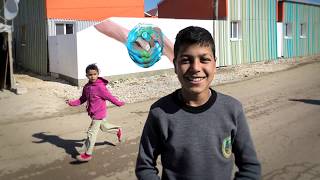 Pavilion Re-claimed: LafargeHolcim Awards Bronze 2017 Middle East Africa
In the El Marj, Lebanon, located in an informal settlement for Syrian refugees, the project creates a dignified school environment from the leftover materials of a temporary pavilion in a collaborative and smart reassembly of its components.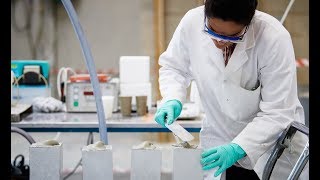 Making the trophies of the LafargeHolcim Awards
This year's LafargeHolcim Awards trophies are a visual and tangible example of what can be created through sustainable thinking and a passion for innovation. LafargeHolcim products Ductal and Airium are fittingly appropriate eco-efficient materials for the LafargeHolcim Awards, which celebrate innovation and excellence in sustainable construction. So the world builds better.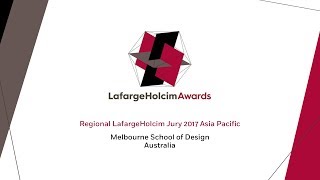 Regional LafargeHolcim Awards jury meeting 2017 Asia Pacific – Melbourne School of Design
The LafargeHolcim Awards 2017 jury for region Asia Pacific met at the Melbourne School of Design, Australia to select projects using the "target issues" for sustainable construction. Take a peek behind the scenes.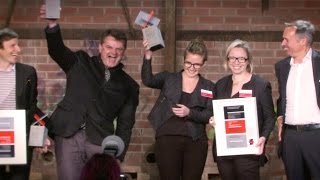 The initiatives of the LafargeHolcim Foundation
Since 2003 the Foundation advances the discourse on sustainable construction through its international Awards competitions, academic Forums and publications. This video introduces the main activities of the organization. Promoting best practice, pioneering fresh solutions, and inspiring both established and the "Next Generation" of architects, engineers, planners, developers and contractors to adopt sustainable parameters for all their building projects are just a few of its ambitious objective.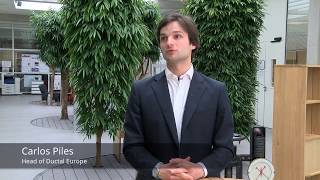 The LafargeHolcim Awards for Sustainable Construction gives many projects the boost to achieve realization and is part of countless success stories being written by aspiring and established professionals. A prize in the competition opens new doors for many of the winners, like the Spanish architect Carlos Piles: thanks to two prizes from the LafargeHolcim Foundation, he has made an exciting step in his career – to LafargeHolcim!