Article
"How much does your building weigh, Mr. Foster?"
"How much does your building weigh, Mr. Foster?"
Sustainable strategies for Re-materializing construction
R. Buckminster Fuller posed this question, used as the title of a recent documentary, as Norman Foster showed him designs for the ultralightweight Sainsbury Gallery at the University of East Anglia. The question implies that lighter is better – and that reducing the amount of material in a project also reduces the embodied energy of a given structure. This principle is useful to apply in an apples-to-apples scenario: a building with less steel will probably have less embodied energy that a building with more steel.
However, in an apples-to-oranges scenario, this principle can be misleading. A lightweight steel-and-glass structure does not necessarily have less embodied energy than heavy masonry. Some lightweight materials require high energy expenditure for their production, others do not. Timber may be both lightweight and low energy while aluminum is lightweight and recyclable but energy-intensive. It may be useful to think of material use in terms of performance: what is the minimum of any given material needed to perform a certain function, and, how would another material's performance compare?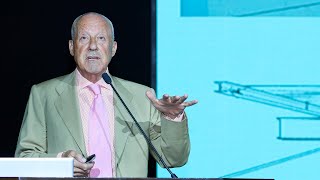 At the 6th LafargeHolcim Forum for Sustainable Construction, Lord Norman Foster (pictured right) addressed the proposition "How much does your building weigh, Mr Foster?" with illustrations of how design is inseparable from nature. Using examples of his work including Apple Park, the Corporate Headquarters of Apple Inc, California, USA and Bloomberg's European Headquarters in London, he showed the interconnection between design and the selection of materials. "Sustainability is inseparable from energy, and inseparable from the process of recycling," he said.
Norman Foster is not only an architect but also a designer, so he draws upon an exceptionally broad palette of materials. Borrowing technology from the marine industry, he designed the roof of Apple's Steve Jobs Theater as a 70-ton fiberglass disc. It rests on a glass wall structure and thus appears to hover over the site. Some of the concrete elements at the Apple headquarters are polished to look like marble. At Masdar Institute in Abu Dhabi, Norman Foster employed aerospace technology concepts to achieve the most efficient protection against sun and heat.
Strategies to re-materialize construction
As the key input to the Forum, the publication 22 Propositions offers strategies for both the material supply chain and material use in buildings. The propositions aim to "re-materialize" construction by rethinking the building material cycle from extraction to processing, design, transport, installation, maintenance, and removal.
The Materials Book to be published by Ruby Press Berlin in late 2019 will feature the essence of 22 Propositions as well as a selection of additional proposals to re-materialize construction derived from the findings of the Forum.
Read 22 Propositions (flip book)
Last Updated: November 01, 2019